It's in the bag
Some of my DJ students ask me what does a digital DJ take to a gig. So, after emptying my own DJ bag out I amazed even myself at the amount of stuff I do cart about. As you can see, I'm clearly paranoid about not having something for that one tricky setup where I could be missing a crucial cable or perhaps the Mac goes A over T, but hey, it still beats breaking my back carrying three boxes of vinyl/CDs about.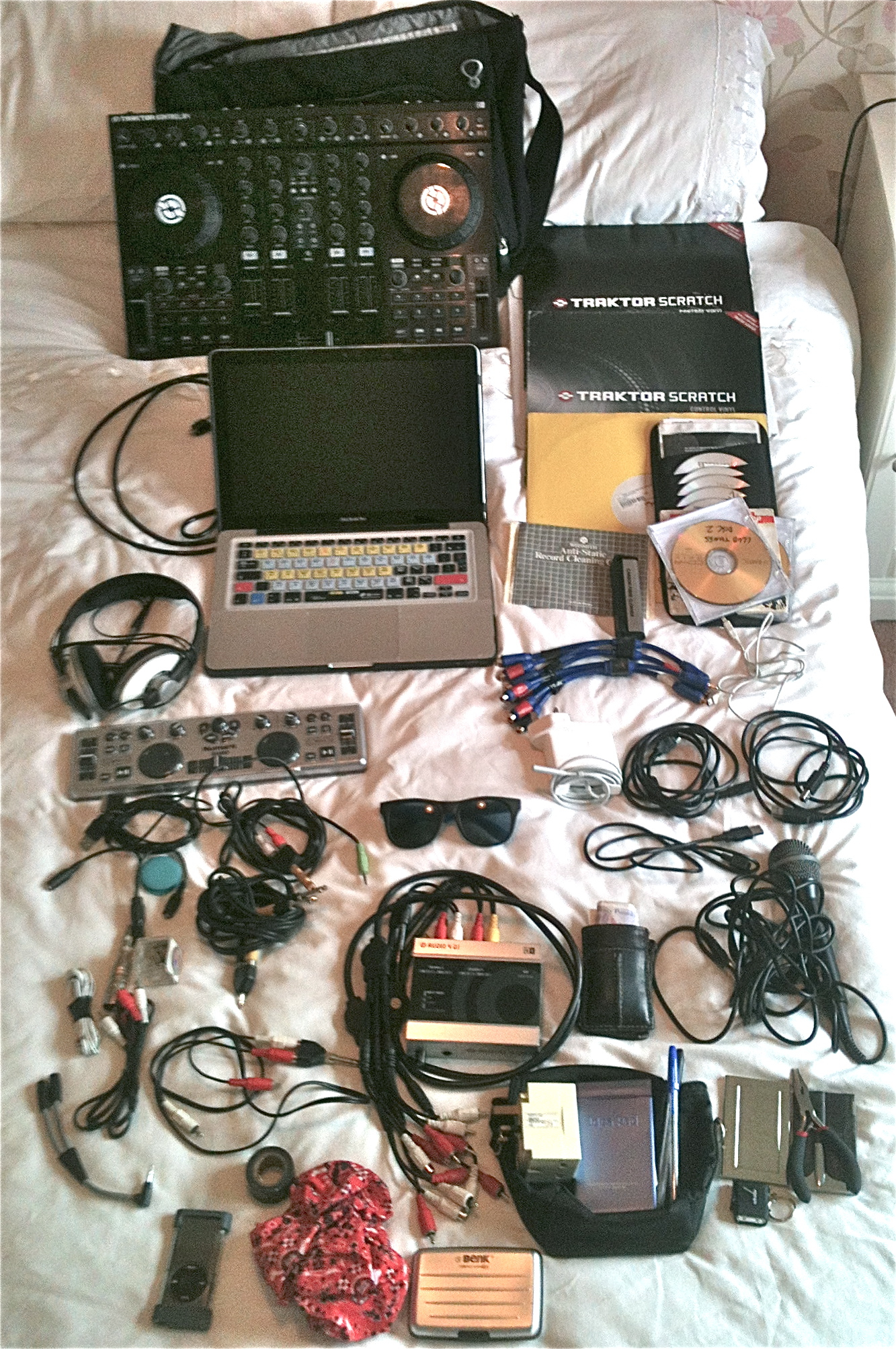 Pictured:
Samsonite laptop satchel bag, Kontrol S4 controller (occasionally used), Macbook Pro and KB Covers Traktor keyboard cover, Kensington lock cable (to keep the laptop safe from teefs), Traktor time code vinyl (2 x clear, 2 x worn out black one), 'Skull Scratching' battle vinyl, sun visor CD holder containing timecode CDs, some backup audio CDs with a few set tunes and backup CD-Roms containing MP3s), vinyl cleaning cloth and carbon brush, 4 USB cables, RCA audio splitters (for those awkward 2 channel mixers), headphones, Numark DJ2GO USB controller (very portable, for emergencies), Mac charger, various RCA, jack and mini jack cables/adaptors, iPod dock audio/charging adaptor, XLR to jack adaptor, spare Stanton cartridge and stylus, spare turntable grounding cable, mini jack to 2 x mono splitter DJ cable, iPod nano, electrical tape, bandana/sweat rag, Native Instruments Audio4DJ interface/DVS sound card and cables, cash/cashcard, business cards in holder, multi mains power adaptor, pocket wind up torch, pliers, tiny multi tool set, AKG microphone, request/note pad and pens, Rayban Wayfarer style shades (with neon blue accents, from McDonalds circa 1987).
Not pictured:
Akai LPD8 tiny midi controller, spare headphones, DJ insurance papers, laptop stand, pack of funk/hip hop compilation CDs, chewing gum, spare Stanton 500AL and Shure Whitelable cartridges/cartridges in a case (also containing shiny DJ 'turntable' bling ring that I never wear and bit o' paper for fixing records that wobble on the deck spindles) and finally a pair of awesome Sicmat slipmats.
Fortunately, all the gear does it's job perfectly, I can't remember the last time I had to resort to the emergency stuff. Just as well. A bit of paranoia doesn't hurt.
That's all folks!
Concepts for DJ tech nerds
These sort of things bend my brain (but are they really the future?):
http://www.djtechtools.com/2011/05/15/2-brand-new-ways-of-scratching-wirelessly/
Tags: nextlevelness, WTF
For Sale! 1 x Numark NS7
UPDATE: NOW SOLD (Hooray!)
Greetings monied DJ tech fans!
DJ Jon is selling his Numark NS7, one very fine piece of equipment indeed. If you are in the market for one of these glorious machines, it's on eBay with pics and full details here: http://cgi.ebay.co.uk/ws/eBayISAPI.dll?ViewItem&item=220775001661
Tags: Numark NS7 For Sale, things I don't want to sell but must
A DJ legend becomes immortal: Farewell Technics 1200 :(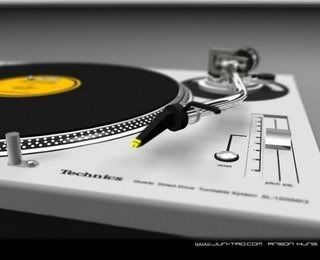 In the same week the world heard about the demise of one analogue great, the Sony Walkman (no I didn't know they were still making it either), the global DJ community saw final confirmation of the sad, but seemingly necessary, cessation in manufacture of the legendary Technics SL-1200 (aka 1210) series turntable, the clear DJ's favourite and industry standard deck for almost four decades. The latest model (amongst some other minor Technics products) have been officially discontinued. The parent company, Panasonic Japan, announced after several recent rumours, that due to dwindling sales (down to 5% on sales 10 years ago) and parts supply issues (they say spares and warranty will still be available).
Originally introduced in the 70's as a HiFi turntable, it quickly gained favour amongst DJs for it's rock solid design, stability,  good resistance to vibration, high torque and adjustable pitch control. The MK2 rode high for years, and in the face of strong, young rivals (and argueably still stronger in terms of torque and features) the company finally introduced some much needed tweaks in latter years (added in various versions up to the outgoing Mk6).
Many DJs, even digital and CDJ peeps, hold great reverence for the 1210, having been seen in every DJ booth worth it's salt. I've used them countless times over the years, they have certainly never let me down. I personally chose a different route when it came to buying my own decks (I'm a Vestax man, I prefer them) but Technics have always had my respect.
It is a shame to see such an icon of DJ lore come to pass, but the industry should not be surprised. Professional vinyl use (played on whatever brand of turntable you might favour) has long been in decline, despite the brilliant tie-in with Digital Vinyl Systems, famous international scratch competitions and (still) huge following from dyed-in-the-wool vinyl users (old school types) and abusers (scratch DJs).
But, times change. We all know a DJ's output is what's important, despite what gear he/she uses.
Actually, to say farewell is premature. Current owners of Technics and turntables will continue to rock them for many years to come (they already last for donkey's years, parts are everywhere plus cottage industries still exist for specialist repairs and mods), DVS software rocks and vinyl still has a place in the DJ world. I love my digital trickery, but handling vinyl still feels special.
Technics never die, they just hit the deck. Get it? lol. No? Ahem…
Read more:
1210 exhibit at the London Science Museum
Tags: 1200, analogue, dj news, gear, technics, turntable, vinyl
DJing gives you wings
Always the turntable tart, I felt inspired today to craft this little homage to Hermes the great messenger of the Greek gods. Natch.
Seeing as our trusty cans live half their lives clamped to our noggins, they also deserve the chance to look flash an' all.
(They'll probably survive one gig I'll wager)